Like adults, children are simply healthier when their spines have as much movement and ease as possible.
Babies and kids develop at astonishing rates, and ensuring that the nervous system is free from any interference to development is essential.
The nervous system controls processes such as growth, reaching developmental milestones, reflex integration, digestion, respiration, organ development and function, and the immune system.
When the spine is free of stress and tension, children's bodies function the way nature intended.
Babies can be adjusted as early as birth, as the birth process itself can be stressful, and small imbalances in baby's spine can result.
Parents bring their babies to a specialized Chiropractor to help with challenges such as nursing and latching issues, torticollis, sleep issues, colic, reflux, digestive issues and developmental issues.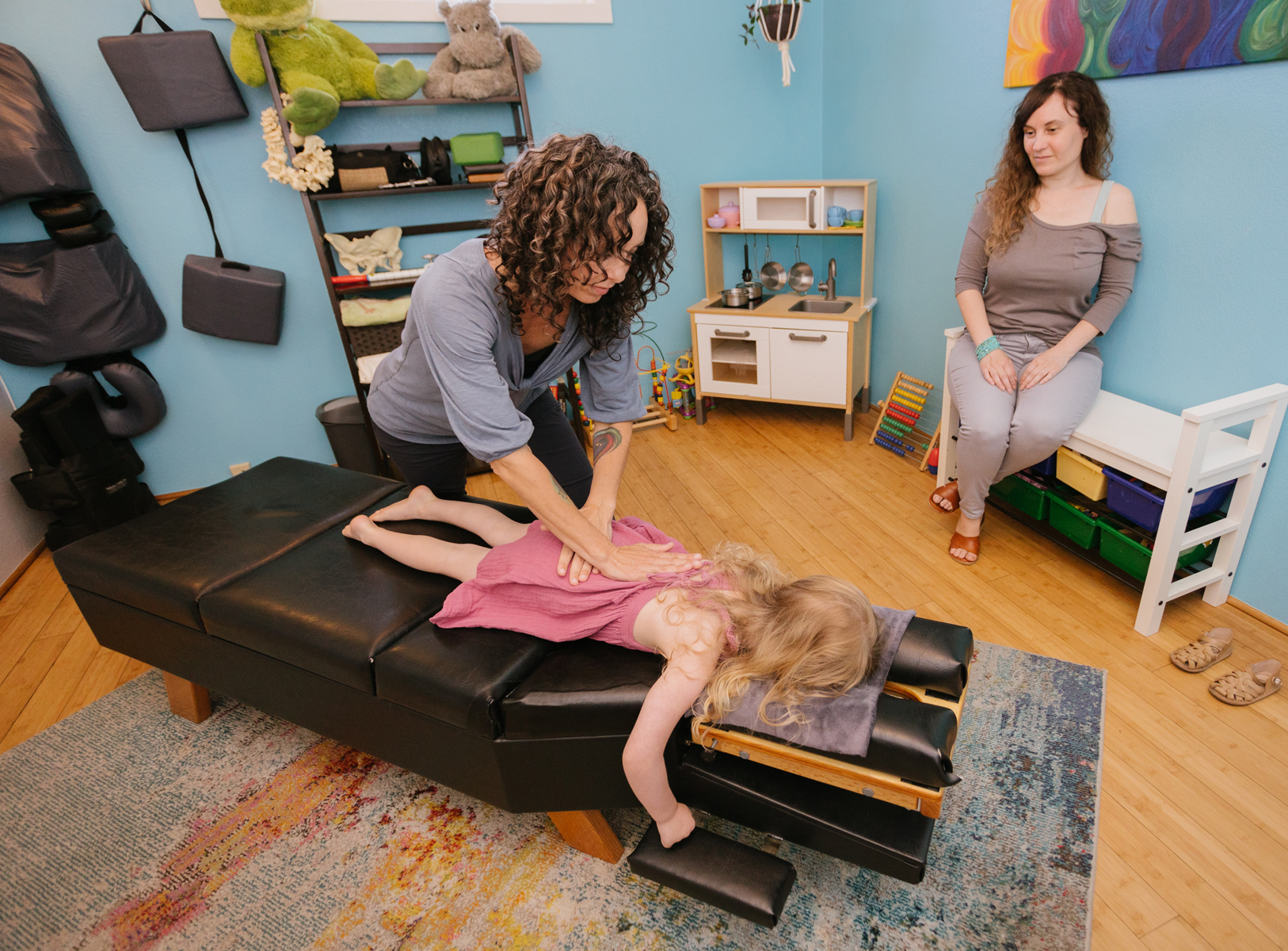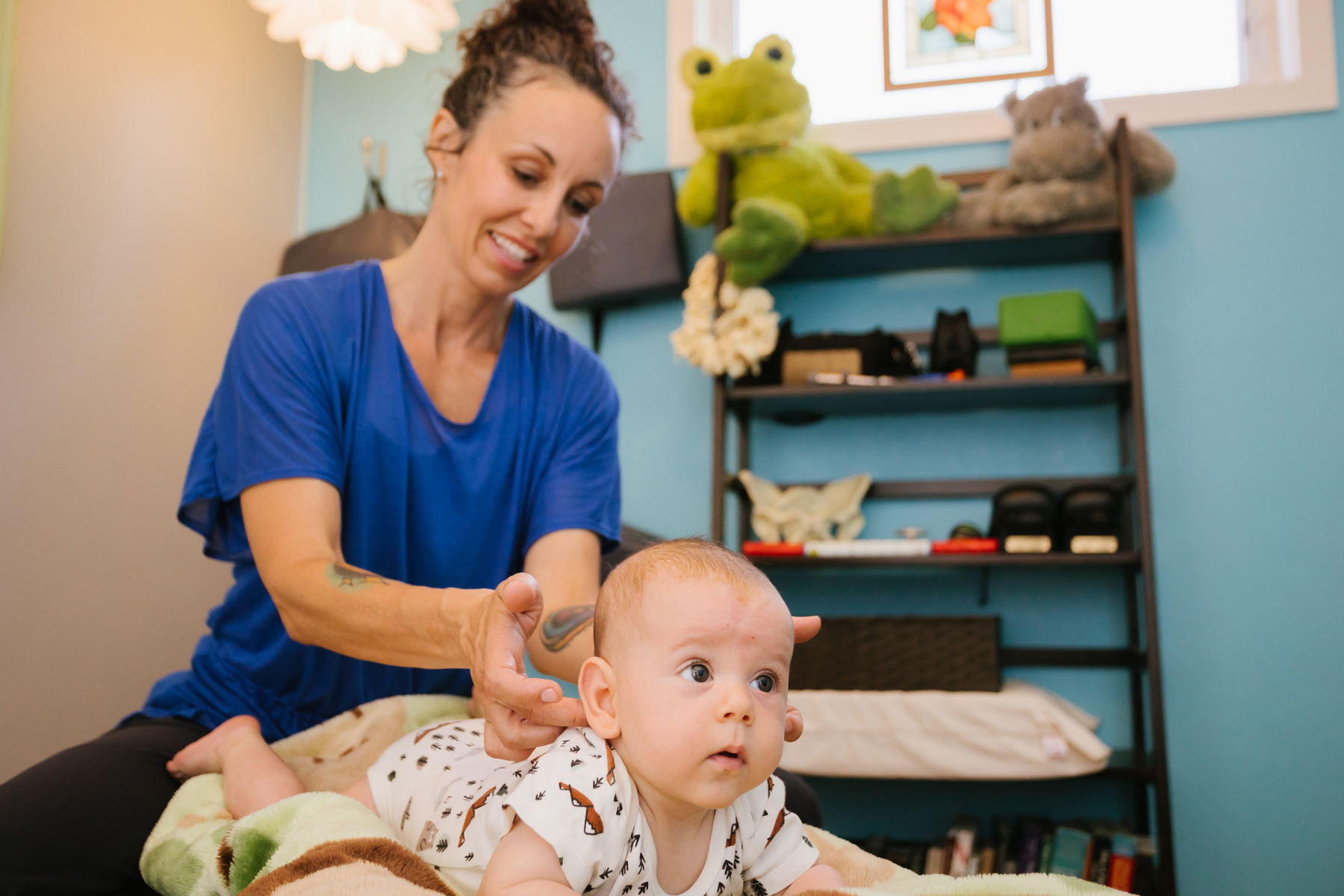 Chiropractic care for newborn babies is very gentle and honoring.
Soft touch and subtle movements are used to bring ease into areas of spinal imbalance. Babies often sleep through the adjusting process, and most often enjoy the experience.
Growing children can benefit from Chiropractic care as they are learning to sit up, crawl, walk and run. Bumps and falls that occur from these milestones can create tension in the spine and body over time.
Older children can experience physical stress from sports and play, postural stress from sitting in class, using smart phones and computers, and mental/emotional stress all of which effect the spine and nervous system.
Having your children receive regular Chiropractic is one of the most effective forms of preventative healthcare. The goal is to allow kids to experience childhood with as much vigor, health, and happiness that they can handle!
We started seeing Dr. Kacie for our baby (he had reflux as an infant) she was so good with him the whole family had to start seeing her, our 3 year old even loves being adjusted. Kacie has a true talent in healing and I would recommend her to anyone!

Diana S.
My 4 year old was complaining of neck pain for several months. I couldn't pinpoint a specific injury but she had experienced a few playground falls and was active in gymnastics. I brought her to several sessions with Dr. Flegal. Kacie made Sierra feel so comfortable she kept asking to go back for another "massage"! After several appointments she no longer complained of neck pain, which has sustained for over a year. I am so thankful for her approach and expert care of such a young child. This mamma can breathe much easier thanks to her help!

Laurel B.
Highly recommend Kacie! I saw her all throughout my pregnancy with my daughter, and now she's adjusted my almost 2 year old daughter. So calm and gentle and makes it fun for a toddler.

Savannah
I have known Dr. Kacie for many years, and have consistently found her work to be a sum of her skillful expertise, insight, intuition, and natural loving way. She is a gift to the healing resources of the Rogue Valley, and worth the travel if you need special care. She is a great chiropractic physician, woman, and individual. Thank you always Dr. Kacie.

Alaya